Hemel Hempstead's property market pulse: deciphering the latter half of 2023.
Stepping into the world of the property market is akin to stepping into a rhythm. The beats of buying and selling, supply and demand form the underlying tempo.
Hemel Hempstead, a town rich in history and character, is no exception. As we venture into the last quarter of 2023, it's crucial to understand the current property market's tempo and how it might influence your property decisions.
A refresher on market dynamics
For the uninitiated or those who need a memory jog, Hemel Hempstead's property dynamics hinge primarily on the proportion of properties tagged as "Sold STC" and "Under Offer" with the total properties on the market, e.g. if there are 40 properties sold stc and 100 properties available/for sale, then 40 as a percentage of 100 is 40%.
This isn't just a number game; it's a barometer of market sentiment:
Extreme Buyers' Market (0%-20%)
Buyers' Market (21%-29%)
Balanced Market (30%-40%)
Sellers' Market (41%-49%)
Hot Sellers' Market (50%-59%)
Extreme Sellers' Market (60%+)
The weight of these brackets can't be overstated. They directly impact everything from listing prices to negotiation leverage.
Current Hemel Hempstead property market snapshot
To fathom where Hemel Hempstead's property market stands now, let's incorporate our most recent findings:
The statistics have been sourced from the website 'The Advisory', which has calculated the market state for many years. I wanted to share them from the summer of 2018 to today so you can see for yourself.
What are the statistics for the Hemel Hempstead area for the last 5 years?
Looking at each of the Hemel Hempstead postcode districts, each tells its own story…
| | | | | | | | | | | | | |
| --- | --- | --- | --- | --- | --- | --- | --- | --- | --- | --- | --- | --- |
| | Jun-18 | Jun-19 | Jun-20 | Jun-21 | Jun-22 | Dec-22 | Mar-23 | May-23 | Jun-23 | Jul-23 | Aug-23 | Sep-23 |
| HP1 | 33% | 37% | 32% | 63% | 60% | 47% | 44% | 48% | 47% | 50% | 47% | 43% |
| HP2 | 36% | 36% | 41% | 64% | 68% | 53% | 49% | 46% | 48% | 45% | 43% | 40% |
| HP3 | 36% | 36% | 35% | 62% | 62% | 45% | 41% | 44% | 46% | 47% | 44% | 46% |
Looking at the average of all the Hemel Hempstead postcode districts combined, in June 2023, we were at 47% in the Hemel Hempstead area. In July, that remained at 47%; in August, it dropped to 45%, and as we enter September, it has dropped to 43%.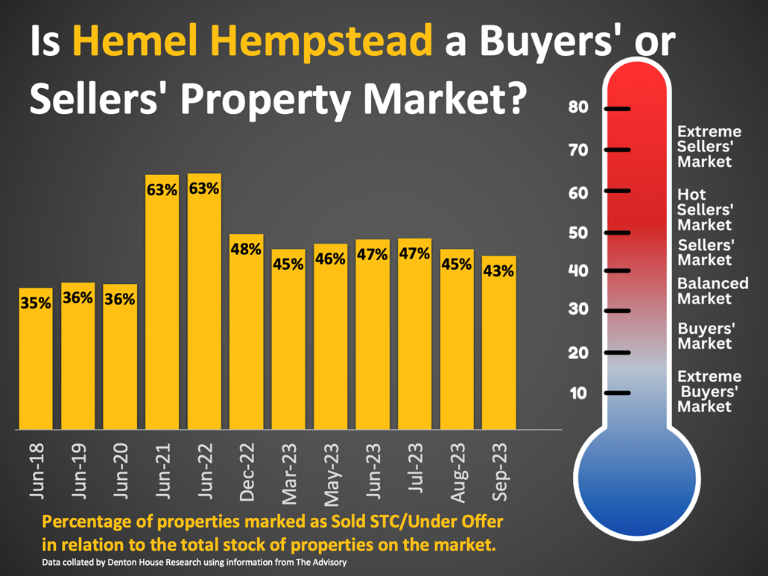 Based on the patterns exhibited in this table, it's evident that the Hemel Hempstead area was in a sellers' market in the spring and early summer of 2023, not unexpectedly remains in the sellers' market as we go into the autumn.
Implications & considerations for Hemel Hempstead's homeowners
This new data prompts us to take stock and ponder:
For sellers: Are we transitioning into a market where you must be more strategic, flexible, or patient?
Should you brace yourself for longer marketing periods? Realistic pricing is even more vital than ever. Remember, in 2022, 73% of Hemel Hempstead properties that came onto the market had a sale agreed on them. As explained in last week's article, year to date, that is running at 61%.
For buyers: What challenges and opportunities lie ahead?
Some properties will still have bidding wars, yet will you have the luxury of choice and time with others?
Broader economic picture:
External influences, from inflation and interest rate repercussions to global economic trends, all cast shadows on the local property market. How might these larger forces be influencing Hemel Hempstead's property scene?
The local pulse:
Infrastructure projects, school ratings, transport links, and even Hemel Hempstead's cultural events can make certain areas more desirable. Are there upcoming local developments that could be game-changers?
Delving deeper: strategies and tactics
Given the market's temperature, here are more granular insights:
Home sellers: Innovative marketing—like specialised social media campaigns, virtual/video tours or interactive property listings—could make a difference in a cooling market. Emphasising unique property attributes, whether a south-facing garden or proximity to popular schools, can elevate a listing.
Home buyers: Again, there is more than one market (look at the differences between the Hemel Hempstead postcode districts above). If you are looking for the type of property everyone is looking for, the competition will heat up. Therefore, it is worth having mortgage pre-approvals in place and also being open to widening your search radius. Alternatively, buyers can wield more power in negotiations in a less competitive market, from price to property extras.
Dual Role of Buyer-Seller: A pivotal 81% of sellers also wear the buyer's hat. This duality presents its challenges and advantages, where a victory on one side might mean a compromise on the other.
Final thoughts on the Hemel Hempstead property market
As we leave 2023 going into 2024, with its twists and turns, the Hemel Hempstead property market offers both challenges and opportunities for Hemel Hempstead's home buyers and sellers. Understanding the market nuances is paramount if you are a Hemel Hempstead first-time buyer, a seasoned property buy-to-let investor, or someone looking to relocate.
Stay informed, stay adaptable, and remember that, as always, your home-moving journey is as much about the voyage as the destination.
We're always here to help. Contact your nearest Castles branch to discuss your property needs. Find our branches listed under Contact Us.
What are your thoughts on Hemel Hempstead's evolving property scene? Do you foresee any other trends or shifts? We would love you to engage with us – your local insights and experiences enrich this ongoing dialogue.
Find out how much your home is worth?
Find out how much your property is worth today with our free valuation.