In 2007 almost half of mortgage products were available to borrowers with a 5% deposit, or less.  By 2010 only 1.2% of products available were at 95% or above, that has lead to a huge amount of buyers that have been left in the private rented sector and essentially forgotten.  Boris Johnson announced in 2020 that the Government would stand behind high loan to value first time borrowers and get them into home ownership by providing a guarantee to the lender should the borrower default.  The budget in March looks to cement this pledge and turn it into a reality.  For decades now loans over 90% have been the back bone of getting young buyers into home ownership and getting chains started and allowing the housing market to function normally.
Since 2009 first time buyers have been in historically short supply, with buyer number remaining fairly flat for the past decade.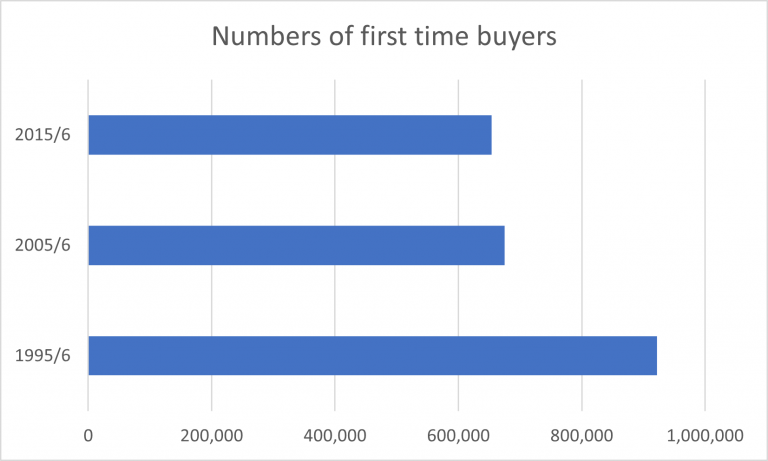 The Government has been trying for the past decade to encourage home ownership, whether that be through shared ownership schemes or through the current Help to Buy schemes or simply taxing landlords out of the market.  Many commentators will share scepticism about any Government intervention that will probably lead to increased house values and a scheme that might lead to the taxpayer left on the hook.  My own opinion is that if the UK wishes to keep its citizens a nation of homebuyers then well thought through intervention is necessary and in this particular instance very welcomed.  I know lots of buyers that may benefit from a 95% mortgage and will allow them the freedom that home ownership can bring.  Whilst homeownership is not for everyone we cannot have a situation where it becomes increasingly only for the rich or those with parents who can assist with large deposits.   I for one will whole heartedly support the Government in allowing an aspirational generation of new buyers into the market.
Find out how much your home is worth?
Find out how much your property is worth today with our free valuation.